12in x 12in, Acudor FB-5015-Series, Fire-Rated for Walls ONLY, Uninsulated, Concealed Hinge, Recessed for 5/8in Drywall with Drywall Insert Included, w/ Self-Latching Flush Key Operated Bolt
12in x 12in, Acudor FB-5015-Series, Fire-Rated for Walls ONLY, Uninsulated, Concealed Hinge, Recessed for 5/8in Drywall with Drywall Insert Included, w/ Self-Latching Flush Key Operated Bolt
Brand Name:
SKU:

AD-FB-1212

Availability:

Y

Weight:

8.80 LBS

Shipping:

Calculated at Checkout

Ships in 2-3 Days

Application
For wall applications.

Designed to maintain continuity in a 2 hour fire rated wall, when temperature rise is not a factor
Product Features
Self-latching / Self-closing

Concealed hinge

Inside latch release

Available with a removable door panel
FB-5060 Access Door Specifications:
Material: Steel or Stainless Steel
Door: 16 gauge
Mounting Frame: 16 gauge. Flush to frame with reinforced edges, flange 1" wide
Hinge: Concealed
Standard Latch:Universal self-latching bolt, operated by either a knurled knob or flush key. When master keying is required, doors can be prepared for rim or mortise cylinder locks.
Fire Rating (Walls): Inside latch release
Finish: Steel: 5 stage iron phosphate preparation with prime coat of White alkyd baked-on enamel. Stainless Steel: Type 304 - #4 satin polish.
Documentation:
FB-5060 Chart
FB-5060 Submittal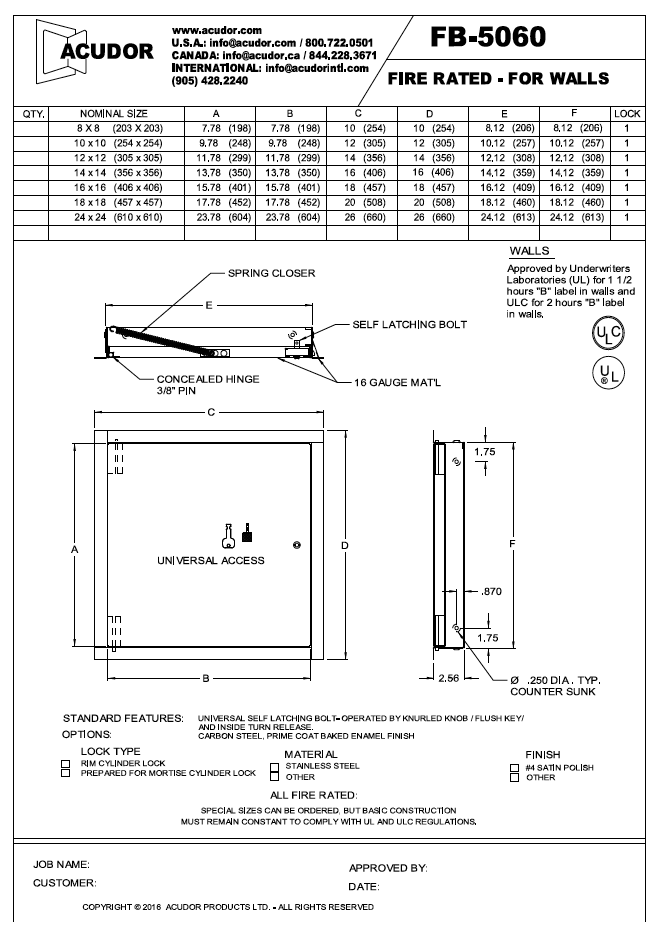 No reviews yet
Add your review
Acudor
12in x 12in, Acudor FB-5015-Series, Fire-Rated for Walls ONLY, Uninsulated, Concealed Hinge, Recessed for 5/8in Drywall with Drywall Insert Included, w/ Self-Latching Flush Key Operated Bolt